Xbox 360 4GB now $99 with Microsoft coupon, Whats the catch? Come find out
05/08/2012 05:53 PM Filed in:
Gaming

It's going to get a little harder to give your friends the excuse of not being able to
play Halo 4
with them on Xbox Live because you can't afford an Xbox 360. Microsoft is now offering a great deal for those who haven't made the plunge to purchasing an Xbox 360. But is this $99 Microsoft coupon for an Xbox 360 really worth the bang for your buck? Lets read the fine print and find out.
Ok, so, with this Xbox 360 under a 100 bucks deal, you will be receiving:
- A 4GB Xbox 360
- One Xbox 360 controller
- A Kinect motion sensor
- And a subscription to Xbox Live Gold
So whats the catch?
Well, in order to take advantage of the $99 Xbox 360 coupon, the subscription to Xbox Live is mandatory. You will be tied into a two year contract with Microsoft, paying $15 a month for 2 years.
This strategy is exactly how Wireless phone carriers do business. Wireless carriers will gladly sell you their latest featured packed smartphone for under $100, as long as you are tied into a contract for 2 years and paying for service they are happy.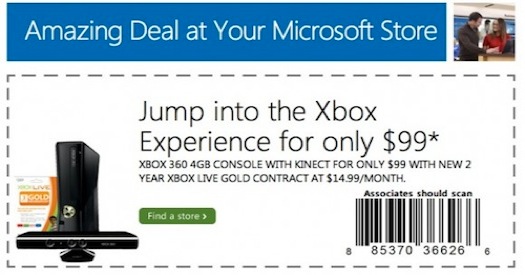 Microsoft is betting big and hoping this new Xbox 360 pricing strategy will pay off in the long run. If you crunch the numbers between the initial $99 and the 2 year subscription of Xbox Live Gold, you will be paying a little more than if you just bought the
Xbox 360 out right from Best Buy
.
For what you get in this Xbox 360 package deal you would be paying about $420 (or even less if you shop around) for the
Xbox 4GB bundle
and the
Live service
if purchased outright. If you go with the Microsoft $99 coupon route, you will end up paying $460 after your 2 year Xbox Live subscription is over. The deal would break down to $99 for the initial purchase of the Xbox 360 and $360 for 24 months of the Xbox Live Gold service.
So at the end, after your 2 year contract is up with Microsoft, you would end up paying around $50 more for the Xbox 360 coupon bundle. If you divide those $50 into the 24 month contract, you would be paying about $3 extra per month for the 2 years.
The Xbox 360 coupon for $99 sounds like a great deal if your strapped for cash and can afford the mandatory $15 per month for Live service. But you will have to remember that if you end up cutting your two-year contract early, you will have to pay termination fees, just how the contracts for wireless carriers work. The fees will start at $250 if you end your contract just one month into the deal and will dwindle down every month until you reach the end of your 24 month contract.
Check out the ETF (early termination fees) chart below:

This would be a great deal for people that can't afford to buy an Xbox 360 in full and will take advantage of the Xbox Live Gold service. But there is still three things you will have to consider before you sign up:
1) For you hard core gamers, you might be a little disappointed with the small amount of memory. 4GB will fill up fast if you're loading games onto your Xbox 360, pretty soon you will be searching for a new hard drive. If you do end up upgrading your Xbox 360's hard drive, be ready to tack on $60 for the 20GB or $85 for the 250GB hard drive. (
I found the Xbox 360 hard drives cheaper at amazon.com
)
2) This $99 Xbox bundle doesn't come with any games. You would have to go out and purchase a game or be stuck with the free game demos from Xbox Live.
3) Even though Microsoft has said the Xbox 360's successor will not be announced in 2012, the Xbox 360 is already starting to show signs of its age. Price cuts are bound to happen with both the Sony PS3 and Xbox 360. The
successor of the Xbox 360
is bound to be released, maybe around the same time your two year Xbox Live contract is up?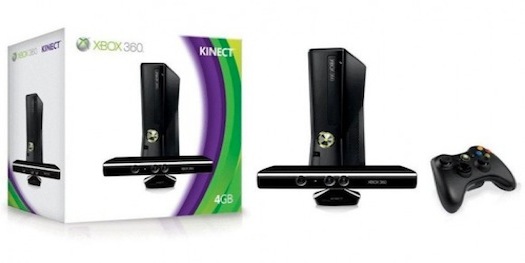 For now, Microsoft considers this coupon deal as a pilot program and can terminate the deal anytime they want. Microsoft will restrict this special $99 Xbox 360's to there 16 Microsoft Stores throughout the US. So if your interested in jumping in on the deal, cross your fingers and hope you live near one of those Microsoft stores.
Here is how to redeem the Xbox 360 $99 offer:

Bring offer code 885370366266 to your local Microsoft Store.

Sign up for 2 year subscription to Xbox Live Gold Membership* at $14.99 per month and receive a 4GB Xbox 360 with Kinect for $99.

Offer valid only at your local Microsoft Store.

Promotional offer (Microsoft may terminate this Offer at any time).
With Microsoft being the first to try to sell their Xbox 360 gaming system on contract (just like wireless carriers do with their smartphones) it will be interesting to see if Nintendo and Sony follow suite. It would also be very interesting to see if the next PlayStation, Xbox, or Nintendo will be available on some type of contract deal.
Will you be getting in on the current Xbox 360 deal? Is the $99 a Xbox 360 worth the 2 year contract? Would you like to have this option when purchasing your next generation gaming system? Let us know down below.
Source:

Microsoft Store
,
Microsoft contract terms
Share this article with friends!