How-To Sync Xbox One Wireless remote Controller Using Kinect
01/07/2014 04:59 PM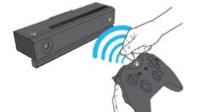 If you have an Xbox One gaming system and just bought a second Xbox One controller, you might be wondering how the heck do you sync your new controller for some two player action. Ill show you how to pair up your xbox controller the easy way, with this simple how-to video.

Connecting a wireless controller to your Xbox One console (also known as "enrolling" your controller) is really easy to do. But if you're like me and haven't synced up an Xbox One controller in a while, you might be a little lost on how to do this simple pairing of controller and gaming console.


You can just skip down to the video if you are in a rush, just make sure to leave a comment letting us know if it helped!

There are actually three different ways you can connect your Xbox One controller to the Xbox One gaming system. All three ways are actually pretty easy and It takes just a couple of minutes to finish the process:

Xbox One controller sync method #1: Using the console's connect button.

Xbox One controller sync method #2: Using the Kinect.

Xbox One controller sync method #3: Using a USB to micro-USB cable.

All three Xbox One wireless controller pairing methods are really easy and you can't go wrong with trying any one of them. But the easiest way I found, was the second method.


How to Enroll the Xbox One controller using the Xbox One's Kinect:


Using your Kinect to sync your Xbox One controller is really easy and you don't even have to get off your couch, once you have your new controller in hand. Connecting a controller using the kinect is a neat way of pairing it and is unique only to the Xbox One. Check out this simple how-to video below.




These steps come right from
Microsoft's support page
, on how to pair your controller to the Xbox One using the Kinect:

Step 1) Power on your Xbox One console.

Step 2) Turn on your controller by pressing and holding the Xbox button until the controller turns on. The Xbox button will pulse, indicating it's not yet connected to a controller. If the Xbox button is lit solid, then the controller is already connected.

Step 3) Press and release the connect button on the controller. The controller's Xbox button will quickly flash a few times, indicating that it's searching for the console. It then switches to a solid light when connected.

Step 4) Point the front of the controller toward your Kinect sensor so that the infrared LEDs on the controller are flashing toward the sensor. The Kinect sensor will read these LEDs and automatically connect the controller to the console.

Also as a side note, you don't have to be close to the Kinect sensor to connect your controller. You can perform this action from across the room.

The Xbox One can connect up to eight wireless controllers to the console and the controllers are assigned to users based on who is holding it, via your profile.

Let us know if this helped you out, in the comments section down below.


Share this article with friends!


Follow Us On...