Selling your iPhone 4/4S? You Should Request To Unlock Your AT&T iPhone With This Easy Tip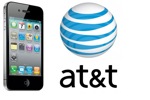 If you have been wanting to unlock your AT&T iPhone but have been too lazy to call AT&T and have to deal with customer support, or you just don't know how to go about doing it, we will show you how with this easy online solution.
Many people need to unlock their iPhones for different reasons. Some iPhone users want to travel with their Apple device to another country and would like to use another wireless providers SIM card, so that they don't get charged with an insane bill when they get back home.
Other iPhone users would like to sell their old Apple smartphone (maybe to get the
new iPhone 5
) and buyers will usually pay more for an unlocked iPhone, versus a locked iPhone that is tied to a single wireless provider.
While others just like to have the freedom of just having an unlocked iPhone in their pocket.
Since last April, AT&T has allowed certain customers to unlock their iPhones for free. All you had to do is call AT&T with an off-contract iPhone and cross your fingers to see if they would approve you. If you were eligible to unlock your iPhone, AT&T would send you an email within a week with instruction on how to finish the iPhone unlock process.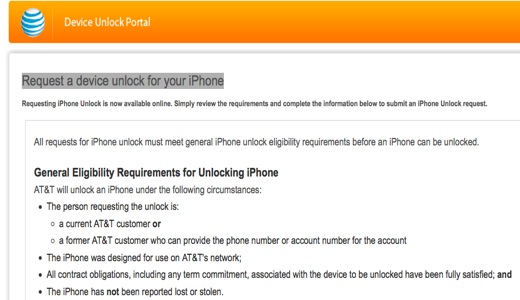 AT&T has now made the iPhone unlock process a whole lot easier. AT&T customers can now go online (Link below) and fill out a simple request to unlock form.
All you need to do is make sure you meet AT&T's eligible requirements (posted below) and you will also need to enter your iPhones IMEI number.
You can get your IMEI number from your iPhone by going to
Settings -> General -> About,
or you can also view the video below to see the whole process to unlocking your iPhone.
View the video below to see how you can get the IMEI number and unlock your iPhone.


All requests to unlock your iPhone must meet some general eligibility requirements from AT&T before an iPhone can be unlocked. But even with these AT&T requirements set in place, many customers have said that they have been able to unlock their iPhone without having met all of AT&T's requirements. So you might want to try the unlock process anyway, you might get lucky.
General Eligibility Requirements for Unlocking iPhone

AT&T will unlock an iPhone under the following circumstances:

The person requesting the unlock is:
a current AT&T customer or
a former AT&T customer who can provide the phone number or account number for the account
The iPhone was designed for use on AT&T's network;
All contract obligations, including any term commitment, associated with the device to be unlocked have been fully satisfied; and
The iPhone has not been reported lost or stolen.

Additional Information about iPhone Unlocks

Current customers will be allowed five (5) unlocks per account, per year, so long as their account is in good standing with no past-due amount or unpaid balance and has been active for at least sixty (60) days.

Former customers will be allowed five (5) unlocks per former account so long as they owe AT&T no Early Termination Fee or other unpaid balance.

In addition, AT&T will unlock an iPhone for: (i) an active and deployed member of the military who is a current AT&T customer in good standing and is able to provide AT&T with deployment verification; and (ii) a person who purchased the iPhone from an authorized location at the "no commitment" price and can provide proof of purchase.
iPhone Unlock Requests

Requests may take up to 5 to 7 days to complete.
Let us know if you were successful at unlocking your iPhone from AT&T's network. Did you meet all of their requirements? Are you trying to unlock your iPhone so you can buy the
new iPhone 5?
Are you traveling and need an unlocked phone? Leave any tips and share your experiences down below in the comments section.
Click to fill out AT&T's Request to unlock your iPhone form
Share this article with friends!
Follow Us On...