How-to get Amazon's Instant Video App to work on Jailbroken iPad's with this Cydia tweak [VIDEO]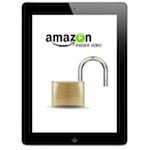 Amazon has finally released an app that allows you to watch movies and TV shows right from your Apple iPad tablet.
Amazon's Instant Video App
is a great addition to any iPad but if you're using a jailbroken iPad, you will be blocked from using Amazon's Video service. Unless that is, you use this great tweak that unblocks the App from detecting your Jailbreak. Come check out the easy how-to video.
Media industries do not want anything to do with Jailbroken or rooted devices. According to them, it makes it that much easier to pirate music, movies and games.
Similar apps such as HBO GO, Time Warner and DirectTV, have also tried to block jailbroken or Rooted devices in the past. So it comes to no surprise that Amazon is now also trying to block Jailbroken iPad's from accessing Amazon's video streaming services.
According to The Verge:
"It's not immediately clear what in the jailbreaking process interferes with the Instant Video app or vice versa, although the presence of either the APT encryption key manager or the Cydia app store appears to be a factor. But it's not at all uncommon for device jailbreaks to break streaming video, usually because of incompatibility with the video's DRM.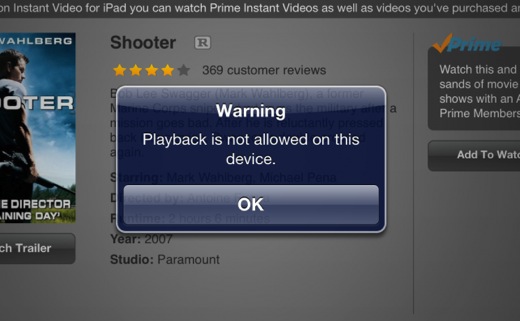 Anyone with an iPad can download the
free Amazon Video app
right from the iTunes app store and start watching their favorite movies on the go. There is just one problem…If your iPad is jailbroken, the Amazon Video app will not work. You can search through Amazon's Movies and TV show lists, but as soon as you try and view a trailer or watch a Movie, you get this error message:


"Warning - Playback is not allowed on this device."
(See Above Image.)
Amazon has even confirmed the Jailbreak error problem and basically said that if you are using a jailbroken iPad, there is nothing they can do for you. But no need to worry, this is where a Jailbroken Cydia app called xCon can help out with this pesky little Amazon problem.
In order to fix the error, download xCon from the Cydia Store on your jailbroken iPad. This Cydia tweak should solve the error message on Amazon Instant Video. Once you've installed the tweak, your Instant Video app should be error free.
Check out this easy how-to video to learn how to be able to use Amazon's Instant video app on your JailBroken iPad:
So what is xCon?

xCon is a free, one-stop solution that bypasses jailbreak detection in App Store applications. This Cydia app works by using a series of universal hooks and tweak's that xCon developers tied in to the app. This tool will fool jailbreak detection software in iOS apps that try and block access to its services.
"xCon is a project aimed to be a one-stop solution to bypassing jailbreak detection in App Store Apps.
xCon supports an extensive list of applications, and while some are not yet supported, the project is constantly being worked on to add support for more and more applications all the time.However, don't get too excited just yet. Although the tweak is pretty useful, it is by no means universal. As of now, the tweak only supports a few apps, all of which are listed.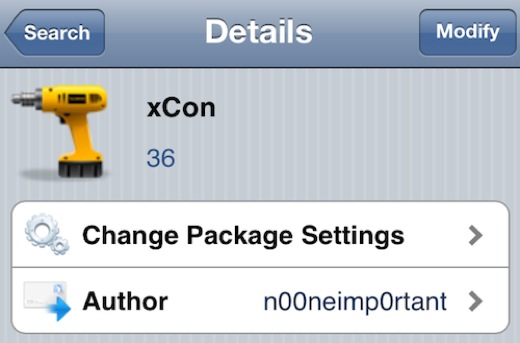 The xCon tweak will bypass jailbreak detection for many other apps as well, such as these:
Cablevision
Verizon On Demand
and a host of others
You can now also include SkyGo and
Amazon Instant Video
for the iPad, to the list of apps that xCon can trick into thinking it is running on a non-jailbroken device.


Download the Amazon Instant Video App for free, from iTunes.


Have you used xCon? Did the Jailbroken tweak work for you? What do you think about Amazon trying to block Jailbroken devices from using its video services? Let us know down below.
Share this article with friends!
Follow Us On...