New GoPro Hero3 White, Silver and Black Editions: Specs, features and pricing
10/17/2012 08:10 PM Filed in:
Cameras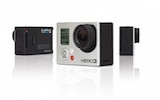 GoPro has released its latest flagship line of action camcorders, the Hero3. The new Hero3 features some great new upgrades that will set itself apart from its competitors, such as Sony and Countour+2. Lets check out the specs, features and pricing of the new GoPro Hero3 action camcorder.
The all new Hero3 is now 30 percent smaller and 25 percent lighter, with a resolution that is up to 4x higher than older GoPro cameras . The new action camera comes in three different iterations, with prices starting at $199 for the entry White Edition, $299 for the
Silver Edition
and $399 for the top of the line
Black Edition
.
The starting price point does sound like a good deal for such a rugged and small high quality HD video recorder. But the top of the line Black Edition really does come with more bells and whistles, making the extra $200 price tag even more enticing.

All three versions Of the Hero3 includes WiFi. This means the BacPac accessory will not be necessary for controlling your Hero3 wirelessly, unlike older GoPro's. Now, all you need to do is download the just released iOS app (Android coming soon) and you will have WiFi control over your new Hero3 right from your iPhone.
However, if you do decide to go for the top of the line Black edition, a WiFi remote is also included. You will be able to control up to 50 cameras at once, with a range of up to 600ft and is also waterproof for up to 10 feet deep. You will also be able to purchase the WiFi remote as a $79 accessory for use with the other Hero3 models.
What comes in the
Hero3 Black Edition package
:
The
Black Edition
is capable of capturing video at an amazing 2.7K and 4K video resolution. In order to record such high quality video resolution out of such a small body, you will have to drop the frame-rate down a bit. 15fps at 4K recording and 2.7K recording will allow for a decent 30fps. Not to bad of a trade off, considering not too many people can take advantage of such high quality 4K video on their TV sets just yet.
Thanks to its upgraded processor, the Black Edition is supposed to be up to 2x faster. This means the Black edition can double its frame rates at lower resolutions, which will allow you to capture some crazy super slow-motion videos and also some nice high quality 12 megpixle HD pictures.
Hero3 Black Edition body: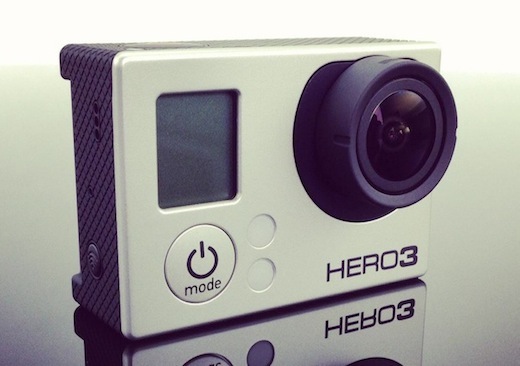 The lower priced White Edition will max out at 5 megapixel stills, while the middle of the line
Silver Edition
will max out at 11MP pictures. Both the White and Silver Hero3's have the same video recording capabilities, which will max out at 1080p and 30fps.
All three Hero3 models come with an ultra-sharp ƒ/2.8 - 6 element ultra wide angle lens with reduced distortion. The Silver and Black version comes with an upgraded aspherical lens over the White Edition. The
Black Edition
is also the only model that comes with a higher quality glass lens, making video quality up to 2x sharper over the White and Silver Editions.
All Hero3 models can also do time-lapse photography going from 0.5, 1, 2, 5, 10, 30 and 60 seconds between each picture.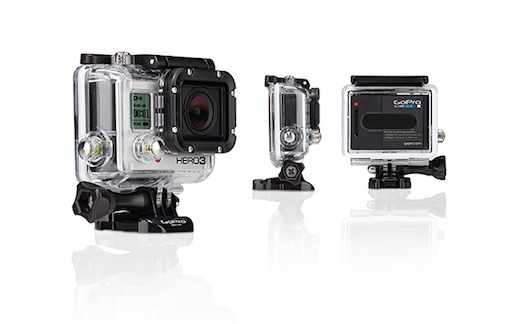 GoPro engineers have completely redesigned the HERO3's sound quality and have also improved its wind-noise reduction technology. Check out the
Hero3 Black Edition
Specs below.
GoPro Black Edition's specs:
1080p in 60, 50, 48, 30, 25 and 24 fps
720p in 100 and 49 fps
WVGA in 120, 100, 60 and 50 fps
Capable of taking 12-megapixel (wide) pictures
Ability to take simultaneous video and photo
Wi-Fi built-in with remote
Up to 64GB capacity microSD card support
For more information on all the Hero3 Editions and pre-order information, visit
bhphotovideo.com
. But first, watch this awesome GoPro video that was recorded with the new Hero3.
Let us know if you are thinking of buying a GoPro Hero3 camera. Which Hero3 Edition would you want to buy? If you already have one, let us know what you think about the new mini video camera.
GoPro HERO3: Black Edition Camera
GoPro HERO3: Silver Edition Camera
Share this article with friends!

Follow Us On...