Virgin Mobile now offers pre-paid iPhone 4/4S, No contract required, Is it worth it?
Virgin Mobile customers will be happy to hear that the Apple iPhone 4 and 4S are now available for purchase, without one of those pesky 2-year contracts. Is it worth going pre-paid with an iPhone?
Virgin Mobile
now offers two different Apple models to choose from, the older 8GB iPhone 4 and the newer 16GB iPhone 4S
.


The 8GB iPhone 4 will cost $549, while the newer iPhone 4S model will set you back $649.


Those same
iPhone models on other wireless carriers start off at
$99 and $199, but with the lower prices also come a two year contract attached.
Virgin Mobile on the other hand is betting that its customers are willing to
Pay a higher up-front price on an iPhone, for better savings in the long run.
In exchange for purchasing an iPhone at a higher price with
Virgin Mobile
, customers will end up paying a lot less for wireless service and will also not be tied in to a two year contract.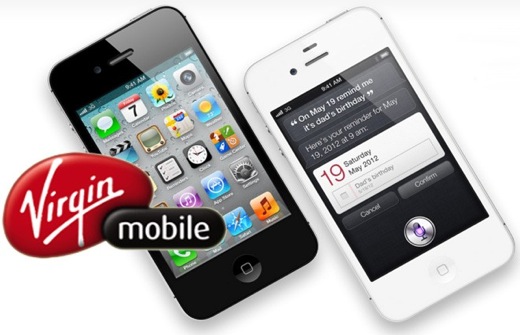 The wireless plans will start out as low as $35 per month, which will get you unlimited data (throttled after 2.5GB), unlimited texting, and 300 minutes of talk time.
Virgin Mobile also offers their customers a $5 per-month plan discount if they choose to use automatic monthly payments by using a credit card, debit card or PayPal account. So that same $35 plan will now go down to $30 if you choose to do automatic payments.
The other two more expensive plans include a $40 plan which will bump up your talk time to 1,200 minutes, while the $50 plan gives you unlimited everything.
Virgin Mobile
will also allow its customers to use their iPhone's as a mobile hotspot for an additional $15 per month.
The table below shows Virgin Mobile's pricing plans for the iPhone 4/4S, which includes that $5 discount mentioned above.

Unlike the big wireless carriers, such as AT&T and Verizon,
Virgin Mobile
will offer unlimited data and text messaging plans, like Sprint does. Virgin Mobile actually uses Sprint's Nationwide Network to offer its customers unlimited data and contract free services.
If you break down the pricing and compare a similar plan from Sprint ($80/month, unlimited data/texting and 450 minutes), you will save at least $500 over the course of two years when purchasing the Virgin Mobile iPhone over the Sprint version.
PCWorld
has a great breakdown of how much the iPhone 4S would cost over a two year period between Virgin Mobile, Cricket, AT&T, Verizon, and Sprint.
As you can see in the comparison price chart below, Virgin Mobile beats all the other wireless carriers by a large margin, $1,369 for 2-Years. The closest carrier to offer the iPhone 4S at a lower cost over the 2 years is Cricket ($1,819). Cricket offers a similar pre-paid plan, but still can't come close in price over the long run. Surprisingly, Sprint comes in last ($1,879), even though Virgin Mobile works off of Sprint's network.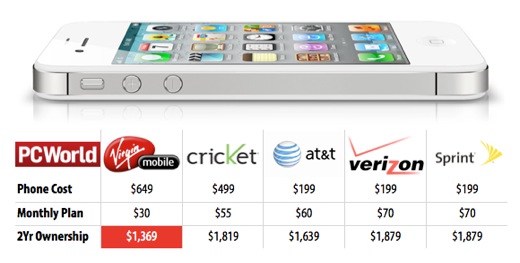 Virgin offers great prices on their monthly plans and the no contract part is also a big bonus. I also like the $5 discount if you sign up for automatic bill pay, and the fact that they have no fees for activation or roaming.
The only thing that will make people think twice about getting an iPhone through Virgin Mobile would be the steep price you have to pay upfront.
In the long run, paying upfront is worth it, versus getting that same iPhone from Sprint or some other carrier and getting stuck with a contract. If you are in an area where Sprint service is strong and you don't mind paying a little more at the beginning, you will for sure be paying a lot less in the long run than with some other carrier.
Apple's smartphones are available through
Virgin Mobile's website
now.
How do you feel about Virgins pricing on its iPhone's? Are you going to get an iPhone through Virgin Mobile? Do you already have Virgin service? Leave us you thoughts below.
Source
:
Virgin Mobile


Share this article with friends!