Apple's iPhone 5 VS. Samsung's Galaxy S3: Drop Tests [VIDEO]

Wondering how the new iPhone 5 holds up to 6-foot drops on to the hard pavement? The guys over at
AndroidAuthority
will show us just how crack resistant the new iPhone 5's screen really is compared to the
Samsung Galaxy S III
.
Apple has gone from using an all glass backing on the iPhone 4 and 4S, to an anodized aluminum backing on the iPhone 5. The white and silver model has ceramic glass inlays along the top and bottom, pigmented glass is used on the black and slate iPhone 5 model. Using the different materials on the iPhone 5, gives the new Apple iOS devices a nice looking two-tone effect.
Apple has also designed the iPhone 5 with a metal antenna band, just like the iPhone 4 and iPhone 4S. Only with the 6th generation iPhone, the antenna band is now also moulded into the back metal panel. This new unibody backplate is supposed to make the iPhone 5 more solid and compact than the pervious iPhone 4 and 4S.
iPhone 5 on left, iPhone 4S on right.
So now with the iPhone 5's new design, many people are wondering if the Apple smartphone is more crack resistant, compared to the older iPhone 4 and 4S all glass design. What better way to test Apple's design upgrades than to put the iPhone 5 against its biggest competitor, the
Samsung GS3
, in a drop test.
After the Drop test, Darcy LaCouvee from
AndroidAuthority
said the iPhone 5 is "rock solid". Now, it's not too often that an Android or Apple fan will accept defeat, but the video does not lie and gives iPhone 5 owners some bragging rights.
Samsung Galaxy S III on left, Apple iPhone 5 on right.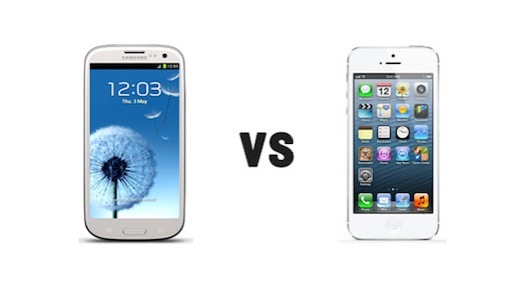 AndroidAuthority
goes on to say:
Well, as much as we hate to admit it, the iPhone 5 did amazingly well in our drop test, while the Samsung Galaxy S3 came out in pretty bad shape. It's the cold hard truth that we can't hide and we can't ignore.
[...]
[...]
The hard aluminum shell of the iPhone 5 withstood the impact pretty well, and the glass protecting the display remained intact. Meanwhile, the Galaxy S3 predictably lost its back cover and suffered damage to the casing and the front glass. Sad, sad, sad.


You be the judge, check out the iPhone 5 versus the Samsung Galaxy S3 drop test and tell us what you think.
I honestly expected for the
Samsung Galaxy S III
to beat the iPhone 5 with flying colors, in this drop test. Since the GS3 has more of a plastic body versus the iPhone's metal and glass design. Is it because of the GS3's larger screen size?
What is your take on the GS3 VS. iPhone 5 drop test? Will you be buying one of these super phones? Do you already have one? Worried about cracking your new iPhone 5 or Galaxy S3? Leave us your thoughts down below.
Source:
AndroidAuthority
Share this article with friends!
Follow Us On...