Grabby Cydia Tweak: Best jaibreak tweak for your iOS lock screen - iPhone, iPad, iPod Touch
04/15/2013 08:14 AM Filed in:
Apple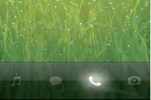 If you're looking for a great lock screen tweak for your iPhone 5, Grabby from Cydia might just be the tweak you're looking for. Grabby will allow you to use the camera icon at the bottom of the lockscreen to launch the Phone application, SMS, Music, Camera or another app. Best of all, its FREE!
You can skip down to see video below, showing off the tweak and how to install
Some say Apple does not use the lock screen as much as they should. With so much that can be done on the lock screen, Apple needs to add more features to access important apps without having to unlock the device.
Just recently Apple released a Short cut camera feature to its iOS lock screen devices. This was a great upgrade because users no longer had to unlock their Apple devices to take a picture. All you had to do was swipe up and within seconds you are taking pictures, all without having to unlock your iPhone.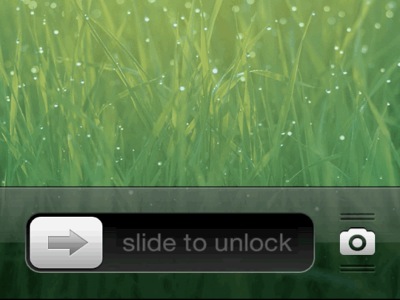 This new shortcut is great to have, makes taking pictures easy and fast. Now, Ryan Petrich, developer of popular jailbreak tweaks such as ProSwitcher, DeepEnd, Color Profiles Rotation Inhibitor etc. has just taken that feature a step further and improved on the quick shortcut access with a jailbreak tweak called Grabby.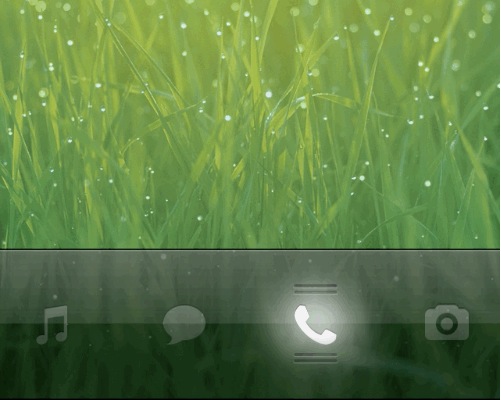 This new jailbreak tweak from Cydia, gives you quick access to any iOS app. Users can now extend the functionality of the Camera grabber feature to any App they like, right from the lock screen.

After installing the Cydia tweak, users can swipe from right to left on the Camera grabber (photo above).

This will give the iOS user access to shortcuts for Phone, Music and Messages icons. Then, just like the Camera grabber, all you have to do is swipe up on the icon to give you quick access to the respective apps.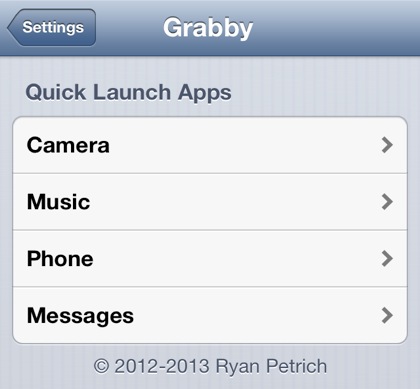 Users can also change the lock screen shortcut apps to whatever favorite apps that are used more often. All you have to do is access the Grabby settings in the Settings app, to change the apps you want for quick access.

One thing you should remember:

If you are going to install Grabby, whatever app you select for quick access, the lock screen tweak will bypass the passcode for that app. so if you have personal messages, photos, or other content you don't want people to see, you might want to keep those apps away from this lock screen tweak. But then again, most people probably won't even know the tweak is installed on your jailbroken Apple device (unless you tell them).

Check out the video below to see the Grabby lock screen tweak in action and on how to install Grabby from Cydia:



Here are the step-by-step instructions to install the Grabby lock screen tweak onto your Apple device:

In order to install Grabby from Cydia, you will need to add Ryan Petrich's repo to Cydia. The repo is URL: http://rpetri.ch/repo/
Launch Cydia
Tap on the Manage tab at the bottom
Tap on Sources
Tap on the Edit button (top right corner), then tap the Add button
Enter the following URL - http://rpetri.ch/repo/ and tap on Add Source button
After the repo has been added, tap on Return to Cydia button
Tap on the Search tab and search for: Grabby
Tap on Grabby from the search results and tap on Install (top right hand side) and then Confirm button to install the tweak
After Grabby has been successfully installed, it will prompt you to restart the Springboard, tap to restart your iOS device.
You now have the Grabby tweak installed
Let us know what you think about this new jailbreak lock screen tweak. Will you be using Grabby from Cydia? Or do you prefer some other tweak? Let us know in the comments below.
Share this article with friends!

Follow Us On...