iPad 3: Is it worth upgrading if you already have an iPad 2? "New iPad" VS old iPad comparisons
03/09/2012 12:11 AM Filed in:
Apple

Now that Apple has announced the "New iPad", will it be worth ditching your old iPad 2 and upgrading? Come check out the new specs and features while we compare them to the iPad 2. Heck, we will even throw in the first generation iPad just for giggles.
If your in the market for a new tablet, Apple's latest iPad is no doubt a great device to buy. It sports a Retina Display, faster dual-core A5X chip, LTE 4G, upgraded camera, and much more.
The new iPad is just about the best tablet money can buy right about now, but is it really worth the upgrade if you already own an iPad 2?
The latest iPad has just about the same design as last years
iPad 2
. You could barely tell them apart just by looking at the device when the display is turned off. But once you pick up the slightly thicker and heavier tablet and turn on that amazing Retina Display, you will start to realize this is everything the iPad 2 has to offer plus more. So lets find out if you should drop your hard earned cash on upgrading, by comparing the new iPad's features to last years.
*On a side note:
Apple's new third generation tablet is now just called…iPad. Most people will call it the "the new iPad" or "iPad 3" we will do the same in this article, just to make things clearer.
Lets start with the screen
iPad 1 - 1,024x768 resolution
iPad 2 - 1,024x768 resolution
iPad 3 - 2,048x1,536 resolution
As you can see with the list above, the first and second generation iPad's used the same type of displays. So the iPad 2 had no bragging rights over the iPad 1, when comparing the display quality between the two.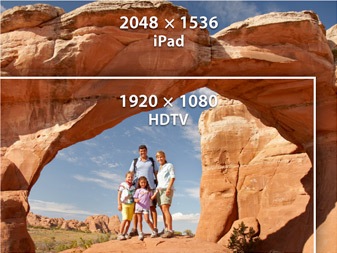 "The new iPad has a million more pixels than an HDTV."


Now that Apple has come out with the iPad 3, last years iPad and any other screen for that matter, will look dated. The iPad 3 features a stunning Retina Display. Apple has basically doubled the resolution compared to its pervious tablets. The iPad 3 has 3.1 million pixels smashed into the same 9.7-inch size screen. Thats four times the pixel density of what the iPad 2 has to offer.

The iPad 3 is considered to have the best display to ever be released on any device to date, including HDTV's (see picture above).

The Retina display alone is one of Apple's biggest selling point. Check out the Apple ad in the video below showing off the amazing new Retina Display.


Thickness & Weight

iPad 1 - 0.5 inches and 1.5 pounds

iPad 2 - 0.34 inches and 1.33 pounds

iPad 3 - 0.37 inches and 1.44 pounds
One very big complaint Apple customers had when the first generation iPad was released, was that the tablet was slightly on the heavy side. Holding the tablet for long periods of time would get your arms tired and you would start to find places to rest the iPad while surfing the web or playing Angry birds.

With the iPad 2, Apple fixed the heavy iPad issue by making the device an amazing .34-inches thin and brought the weight down to 1.33 pounds. Compare that to a half-inch waist and one and a half pounds of weight with the first iPad, you will notice a big difference.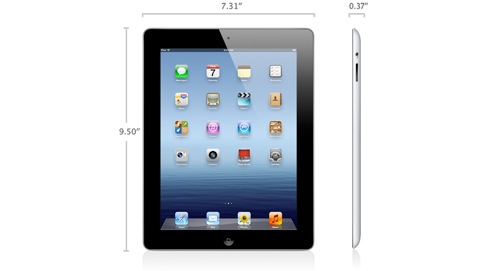 Now if you're an iPad 2 owner, you will be happy to know the
second generation iPad
still holds the title for thinnest and lightest iPad. The new iPad now comes in at 1.44 pounds and .37-inches thick. The iPad 3 has gained a little weight with its upgrades and now fits snuggly in-between Apple's last two generation tablets.


Processor
iPad 1 - A4 1GHz

iPad 2 - A5 1GHz (dual-core)

iPad 3 - A5X (dual-core, w/ quad-core graphics)

What can I say, Apple is great at boosting the performance on their devices. Apple went from single-core with the first iPad, to a dual-core processor with the iPad 2, this alone was a great reason to upgrade your iPad tablet.

Now with the iPad 3, Apple has made the decision not to follow other manufactures steps (such as Samsung), when choosing what would power the iPad 3. Instead of producing a quad-core processing chip for the new iPad, Apple added an X to the A5 processor and gave the newly designed quad-core chip a boost in performance.

Apple has also added a quad-core graphics GPU, which will help keep everything running smooth while gaming and photo editing on that amazing Retina display. Apple will also push the iPad 3 Graphics performance as a main selling point

People seem to be split on Apple's processing chip decision. Many are questioning why didn't Apple boost the chip to a quad-core, when so many companies are already doing this. Apple isn't the type of company to follow anyones footsteps, they usually like to follow their own agenda.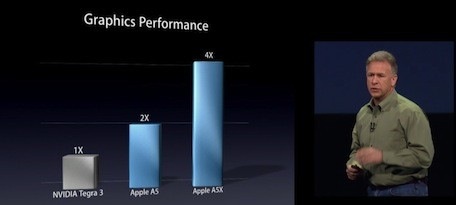 Since the A5X chip is made specifically for the iPad 3, developers will be able to produce great apps and other content designed only for the new iPad. The A5X processor chip will most likely keep up with any quad-core processor, for some time to come. Nowadays with hardware getting so advanced, the quality of the software is getting to be more important than the hardware. Apple actually claims that the A5X graphics performance is about 4 times faster than the quad-core Tegra 3 (picture above).

Front and Rear cameras

iPad 1 - Front - N/A Rear - N/A

iPad 2 - Front - VGA Rear - 0.7 megapixel/720p

iPad 3 - Front - VGA Rear - 5 megapixels/1080p
The iPad 1 didn't have any camera to speak of. When the iPad 2 came out, everyone loved the addition of cameras for face time and taking pictures when you had no other device around.

The iPad 2 cameras were a great addition but seemed to be an after thought when Apple designed the tablet. The back camera on the iPad 2 is a 0.7 megapixel sensor while the front sports a VGA sensor, which wasn't ever anything to brag about. Plus most people figured it was kind of awkward to take pictures with a tablet anyway.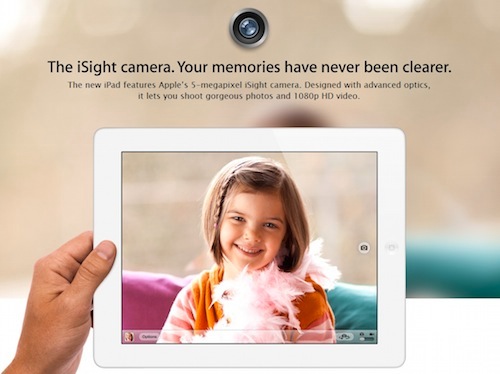 The third generation iPad's front VGA camera is still nothing to brag about, the rear camera is a different story. Apple has basically added the iPhone 4S sensor to the back side, which means the image quality won't disappoint. With a 5-megapixel iSight sensor in the rear and capable of recording 1080p HD video, Your pictures and videos will look amazing when viewing them on that sexy Retina Display.

The camera sensor also features an ƒ/2.4 aperture lens, supports great stabilization software and face detection for up to ten people. So now you can take nice sharp pictures or video on your tablet, without the blur in low light situations.

Siri?

Siri was introduced with the iPhone 4S and so far is the only Apple device to support the intelligent assistant. Many people from the Jailbreaking community have already proved Siri is very well capable of working smoothly on the iPhone 4 and even the 3GS, but Apple is sticking to their guns.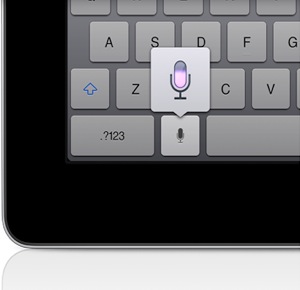 With the new iPad 3, Apple is still not planning on releasing Siri on to the tablet. The iPad 3 will set itself apart from the last two iPad's with Dictation. While Dictation is not full blown Siri, you will still somewhat be able to manipulate the iPad with your voice.

You will be able to send an iMessage, search for a song, take some notes, by just tapping the microphone icon on the keyboard and start talking. Dictation also works on third party apps.

One of the main reasons Apple decided not to include Siri on the iPad might be because Siri requires a constant internet connection. While the Apple offers an LTE 4G version, not everyone will shoot for the more expensive 4G enabled iPad. For now it seems like the iPhone 4S will be your best bet, if you want to experience Siri.


Cellular (3G/4G)
iPad 1 - 3G (AT&T)

iPad 2 - 3G (Verizon, AT&T)

iPad 3 - 4G (Verizon, AT&T)

The iPad 1 was available with a 3G radio from AT&T only. When the iPad 2 was released, Verizon was able to get into the action and offer their 3G service as well. 4G wasn't ever an option, Apple felt the battery draining 4G technology was just not ready for the second generation iPad.

When rumors started to go around about the iPad 3, many people were skeptical about seeing a 4G version of the new iPad. Apple finally caved in with the new iPad and now offers a radio that can handle a 4G Internet Connection, 3G is just not cutting it anymore.

This will be Apple's first device to feature the blazing fast wireless technology, 4G LTE service will be available from both AT&T and Verizon wireless within the states.


Apple's latest tablet even has the ability to go just about anywhere around the world and your iPad will most likely still be able to connect to the internet with other wireless internet providers. If your worried about roaming, you can easily switch out SIM cards so you won't have to worry about getting surprise charges when returning home from vacation. The new iPad can also be used as a personal hotspot for up to five devices, thats if your wireless carrier allows it of course.

All these great LTE 4G features and the new iPad still holds its own with 10 hours of battery life, just like the iPad 2.

So what iPad will you choose?

Here is one more Apple video talking about all of the great new features the 3rd generation iPad has to offer.



For the most part the iPad 3 is an amazing tablet and is currently lightyears ahead of any tablet on the market.

If you're on the ropes about upgrading from an older iPad, you really should weigh your options. I would suggest on deciding If you are in need or are interested in a better screen resolution, faster LTE 4G speeds, or a boost in performance. If you feel you need any one of those features, then I would say go for it and buy the "New iPad" you will never look back.

For those of you who are cash strapped or don't find the iPad 3 upgrades to appealing, the iPad 2 is still a great machine. If you don't own an iPad and are wondering witch one to buy, I would highly recommend taking a second look at the iPad 2 before going straight for the new iPad.

The iPad 2 isn't going anywhere, Apple will now sell it for $100 less than its newer iPad model
. It will now compete with other lower priced tablets and still be the best "cheap" tablet to buy. The iPad 2 will come with 16GB of memory and Wi-Fi, but no 3G or 4G Internet connection.

At the end of the day, whichever iPad you choose will most likely won't be disappointed.

Let us know if you purchased the iPad 3. Or will you be sticking with the iPad 2? Is there another tablet out there you feel that is better then the iPad? Leave your comments down below.

Source: Apple

Share this article with friends!