Twitter & Facebook phishing scams, avoid loosing your personal information with these 10 tips

The other day I received a very interesting direct message from a person that I follow on my Twitter account. The message was so intriguing in-fact, I clicked on the link faster then I could think about what I was doing. That was when I realized I almost got tricked into giving my Twitter account username and password away to some phishing scam. If you want to learn some helpful tips on how not to get duped into these types of scams, read on.
How the Twitter scam almost got me!
(You can skip my story and head down to the "
How can I keep my Twitter & Facebook accounts safe?"
section, to learn more about
Bitdefender's
amazing social network protection app, along with some tips to keep you safe.)
In my situation, I personally didn't even know the person from whom I received the Twitter spam message. This person is someone that followed me a couple months back, so I followed back. I regularly see this persons tweets in my Twitter home page, he is always very active on his twitter account. So even though I don't personally know this person, I do have a sense that he does care about his account and isn't using his account to try and scam people.
Since I don't communicate with this person what so ever, I was really surprised to receive an email on my iPhone saying I had a personal message from this individual. Since we do follow each other, I figured it was a pretty normal occurrence. So I jumped onto my iMac computer and logged into my Twitter account.
Once logged in and clicking on the DM (Direct Message) I had received, I was very surprised to see what this Twitter user had sent me.
"You seen what this person is saying about you? http://matbun.ru terrible things.."
As you can imagine, I was a bit confused and had many questions racing through my head. Reading this also made me very upset and right away I clicked on the link to see what he was talking about. As soon as I clicked on the link, I was sent to what looked like a Twitter login page asking me to re-enter my Twitter login information. This was supposedly to verify that I was the owner of the account.
Right away I realized something fishy was going on. Once I seen I was being asked for my Twitter login username and password, I closed the link and started doing some investigating to see what this phishing scam was all about.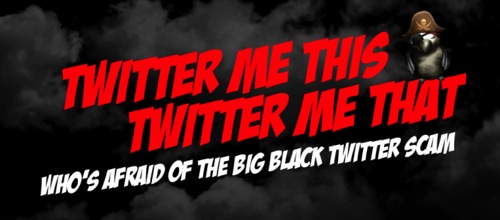 It didn't take to much work to confirm it was indeed a phishing scam and had already done its rounds around Twitter. I found many comments from people warning and complaining about these types of scams. Someone had also posted a comment, warning people about the same exact message I had received.
"Just got a DM saying "You see what this person is saying about you...." DO NOT click it. From matbun.ru. It's a phishing scam!!!! ARGH!
What is a phishing scam?
After a little more investigating I learned that Twitter phishing scammers have a number of different ways into tricking user. It doesn't matter if its by email, Twitter, Facebook, or any other social network, the hackers goal is getting you to click on a link that will take you to what appears to be a (in this case a Twitter) sign-on page, where you will give them your personal username and password.
Once you give them your login information, these phishing hackers can pretend to be you and start spreading more Twitter spam and infecting other people's computers.
The individual that I received the spam message from, most likely was tricked into giving up their username and password and now is unknowingly spreading out spam to his whole list of followers on Twitter. This type of scam becomes a never ending loop and spreads like wild fire.
In my situation, I was very lucky to be able to catch the scam before it was too late, but just even clicking on a link that could harm me was really bothering me. Many of these hackers are clearly intelligent people, they were able to get my emotions going to the point that I was clicking on the link and almost giving them the "key" to my account, something I would have regretted.
I can now clearly see how many people can get tricked into giving up their personal info, without even realizing it.
How can I keep my Twitter & Facebook accounts safe?
If you use social networks such as Twitter and Facebook and are worried about phishing scams or viruses trying to take over your personal information, I would highly recommend reading the 10 tips below and also getting Bitdefender's applications. The company claims it's the only type of software with features "that protects users on all major social networks in addition to traditional antivirus, antimalware and spam protection." and it seems to do a great job at it.
Bitdefender Social Network Protection
- Filters the links you receive from your Facebook and Twitter friends and monitors your privacy settings.
All you have to do is install the app into your Twitter and/or Facebook account, and it will root out anyone you follow who appears to be a bot, or other type of fake or hijacked accounts. It will also automatically scan your Timeline to find links used for phishing attacks, or which lead to malicious software.
Bitdefender's Twitter and Facebook protection is offered in these great security software bundles:
www.bitdefender.com
10 quick tips to help you avoid Twitter and Facebook scams:
Be very careful signing up for work-from-home services connected with Twitter, and make sure you know exactly what you're signing up for.
Don't sign up for services that claim they'll get you more followers.
Before entering your Twitter password on any sign-on page, check that the address bar shows http://twitter.com/. Beware of anything that uses another word on either side of "twitter."
Change your password frequently, and immediately if you think your account may have been compromised.
Be wary about clicking on links, even ones that appear to come from people you know. Get to know those you are newly following before trusting any of their links.
Make sure your Internet security software is up to date so that if you do click on a bad link it will alert you if it takes you to a malware site.
Don't automatically follow people who follow you. Visit their profile page and beware of anyone whose tweets consist mainly of links, or who appears to be following lots of people but has hardly posted any messages.
Never give away confidential information about yourself in a tweet, even if it all seems perfectly innocent.
Carefully check out programs that sign on to Twitter for you and fetch your messages. They can increase your security but they also need your password -- so make sure they're legit by doing a search first. Popular legit services include TweetDeck and Twhirl.
Simply don't believe any message that says you won something. You didn't.
Have you been tricked with some kind of scam while using Twitter, Facebook, or any other type of social network? Are you one of the lucky ones that caught the scam on time? Are you worried about getting tricked into loosing your account, to these types of phishing attacks? Are you going to try or do you already have the Bitdefender's protection app? Leave your comments down below, so that others are aware of the scams.
Share this article with friends so they don't fall for a phishing scam!



Here is also a bonus list of important tips from Safego, to keep you safe while tweeting away on your Twitter account.




Source: Bitdefender's Website


Share this article with friends!