Samsung Galaxy S III Is Now Available for $99.99 On Amazon's Website, 'Limited' Time Only
For those of you who are looking into purchasing a new Android smartphone, the Samsung Galaxy S 3 is most likely on top of everyones wish list this season. So you might as well take advantage of
Amazon's new $99.99 deal
for the GS3, Come check it out.
Samsung has made a great flagship Android device that both looks great and performs very well. The Samsung Galaxy S III packs a powerful 1.5 GHz dual-core processor, along with 2GB of RAM. The rear camera sports an 8 megapixel camera and the devices comes with 4G LTE connectivity. The Galaxy S3 also comes with Android's latest mobile operating system, ICS (Ice Cream Sandwich).
If you go to
Amazon's website
, you will see that the Samsung Galaxy S3 is definitely $99.99. But the cost of the Android smartphone will come out to be a little more than a hundred bucks, you will also have to pay an additional $35 carrier activation fee. On the bright side, Amazon has included free two day shipping with your purchase of the Galaxy S III.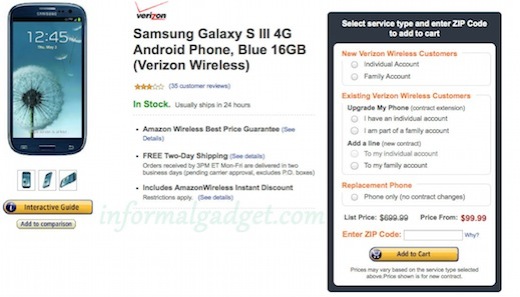 The $99.99 Amazon deal refers to the price of the 16GB model. You will be able to choose between the colors blue or white and also choose between wireless carriers, Verizon, AT&T or Sprint. As for T-Mobile fans, It doesn't look like they will be able to take advantage of Amazon's $99 deal (just yet).


Amazon's Galaxy S III deal is only applicable to customers starting a new 2-year contact on either a personal or family plan. Existing subscribers that are upgrading or adding a new line, cannot get the deal. But if you are a new customer, this is a great price for the GS3.

According to Amazon, this $99 deal is only going to be offered for a 'limited' time and may soon expire. Maybe Samsung and Amazon are trying to take some customers away from the new Apple iPhone 5? Anyway, if you have been waiting to get the best price on a Galaxy S3, now would be the time.

If your looking into buying the Samsung Galaxy S III from Amazon for $99.99, click on the links below for more info on each carrier:

Samsung Galaxy S III 4G Android Phone, Blue 16GB (AT&T)

Samsung Galaxy S II Epic Touch 4G Android Phone, White (Sprint)

Samsung Galaxy S III 4G Android Phone, Blue 16GB (Verizon Wireless)


Are you thinking of taking advantage of this great Amazon deal? If not, what smartphone will you be upgrading too? Let us know below.

Source: Amazon


Share this article with friends!

Follow Us On...