The best 2013 Fantasy Football Apps For Draft Day, News, Ranking And More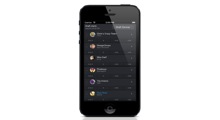 If you're looking for the best fantasy football apps for your league in 2013, we got you covered. From draft day and all the way into playoffs, we will help you choose the best fantasy-football-related apps that will help you stay up to date with all your players, rankings, news and injures you need to know about to stay ahead of the game.

These are the best apps I have personally used and reviewed that I have found useful for me on draft day and throughout my fantasy football season.
I have weeded out all the useless fantasy football apps, so that you don't have to download tons of apps, only to find out that most not that great. So
if you're looking for that edge on draft day and throughout the season, chuck that cheat sheet and start downloading these helpful fantasy football apps.

Note #1: Links to all apps are below each app review. Make sure to click on the links to download the app. We will also be adding (and maybe even deleting) apps to this list as the season moves along, so make sure to bookmark this page to have the latest fantasy football apps you need to win your league.

Note #2: If you're wondering which app to get and can only choose one out of this list, choose one of the first two apps listed. They are the best two options to have on draft day, making your Fantasy football league a strong team for the season.
#1
RotoWire Fantasy Football Draft Kit 2013

RotoWire is probably one of the most expensive Fantasy Football Draft apps in the app store, but for good reason. This draft app is one of the best sources for football player information on draft day.

You can input your league's specific scoring options and the RotoWire app will generate a custom cheat sheets based on your leagues specific settings. This feature alone makes those other ranking cheat sheets, that are meant for any league, overrated.


One of the best features this app has to offer is that you can check off players as they are being drafted. This means you can easily weed out the players that are already picked and start looking for the next best player for your team. You can also make your own custom draft day cheat sheets, by manually ranking each player the way you want for your fantasy football draft day.


You can easily look at projected stats, historical data, and even individual defensive players quick and easy, before you pick your next player.

For people that play in multiple fantasy football drafts, you will be happy to hear that you can have as many draft cheat sheets as you like. You can also do mock drafts against the computer, allowing you to practice before that big draft day. This draft app also supports
Individual Defensive Player
(IDP) drafts, if your league is into that kind of stuff.


This app even offers a players "watch list" that you can customize and will keep you up to date on any news for that specific player you have an eye on.

RotoWire also offers a really good Fantasy Baseball Draft Kit, for all you baseball fans out there.

iPhone & iPad devices $4.99:
RotoWire Fantasy Football Draft Kit 2013


Android Devices $2.99:
RotoWire Fantasy Football Draft Kit 2013
#2
NFL Fantasy Football Cheat Sheet 2013

The official Fantasy cheat sheet app of the National Football league is another great draft app to have for your fantasy football league.
This app has a pick recommendation engine that is based on their own value-based drafting algorithm for each player. All stats and projections for players are from AccuScore, which is updated several times per week.
If you feel like you need a little bit of practice before your draft, you can also do mock drafts.
You can adjust this app to calculate rankings based on your league's specific settings and scoring system, this will allow you to have the best cheat sheet for draft day.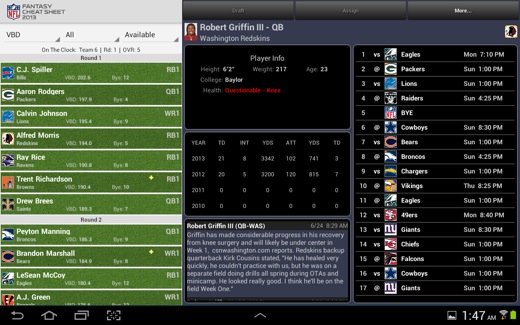 You will have the ability to have Multi-team drafting and track all the teams rosters in your draft, allowing you to make better decisions because you will know what players your opponents may be targeting and picking up.
You'll also be able to use this app for auction type drafts and your IPD (Individual Defensive Player) leagues.
This app is on par with the first app review above (RotoWire's Fantasy Football Draft Kit 2013 app), you can't go wrong with downloading either one of these amazing apps for draft day.
Apple Devices:
$2.99 - NFL Fantasy Football Cheat Sheet 2013
Android devices:
$4.99 - NFL Fantasy Cheat Sheet HD
$2.99 - NFL Fantasy Cheat Sheet
*We will be adding more Fantasy Football apps as we review them. So make sure to bookmark this page and share with friends. Also, let us know in the comments below if there is an app worthy of this list, we might just add it.
Share this article with friends!
Follow Us On...