Motorola's Spyder and Xoom 2, Leaked photos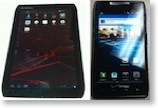 Seems like Motorola can't keep there devices on lock down. We just received some more leaked photos of the unreleased Xoom 2 tablet and the Spyder smartphone, also known as the Droid HD.
Along with the pictures, it was also mentioned that the devices in the leaked photos are very close to the final form we will eventually see in stores. There is no guessing to what carrier will be selling them, As you can see in all the photos, both devices have Verizon logos everywhere.
Its also rumored that the Spyder will be sporting a 1.5GHz processor, but will be clocking in at a locked 1.2GHz.
The back of the Spyder is also said to be made out of Kevlar coating, Click on the tabs below to see if you think Motorola's new smartphone can stop bullets.



We will make sure to inform you of more leaked photos and info, when they come our way.
Update:
Check out Verizon's new DROID RAZR by Motorola, available for pre-order October 27
Source:
Engadget
Tweet