T-Mobile Will Offer A True Unlimited 4G Data Plan on September 5

T-Mobile has just announced a true unlimited Nationwide 4G Data plan with no data cap, Good news for all you smartphone users out there. Come check out the official T-Mobile press release.
Looks like T-Mobile is trying to get more customers by offering an unlimited 4G data plan to its customers and to top it off, no pesky data throttling will be included.
Unlimited data plans are something that most mobile phone service providers have started to take away from their customers and are now adding shared data plans, such as Verizon and AT&T. Sprint is known for offering Unlimited 4G data plans in the US, but T-Mobile is claiming that it's providing more extensive 4G coverage to its customers.
T-Mobile offered "unlimited" data plans up-until May 2011. These data plans weren't really considered unlimited data plans because of how T-Mobile would throttle down speeds, after customers would go over a certain data threshold.
TMoNews was the first to break the news, with leaked pictures of a flyer that shows T-Mobile's new Unlimited Nationwide 4G Data add-on plans. The unlimited 4G data plans will cost $30 a month for Classic talk and text customers or $20 for Value customers.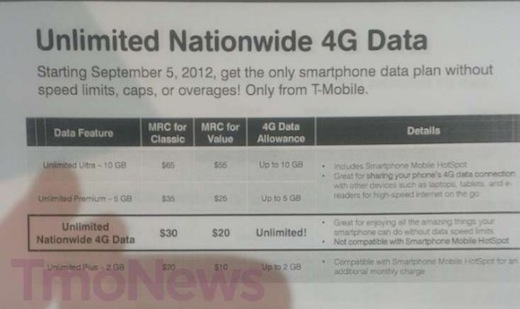 Customers who currently have the 2GB package can now upgrade to a true unlimited and uncapped 4G data plan for just $10 more per month. T-Mobile will continue to offer its current, tiered plans and customers won't have to switch if they don't want too.
One set back for all you Hotspot users hoping to use that true unlimited 4G data on other wireless devices, it's a no go. T-Mobile will limit the new unlimited 4G data plan to your smartphone mobile device only. So if you're looking for an official way to tether from your device, you will have to add on another Hotspot package to your mobile bill.
T-Mobile will start to officially offer the unlimited 4G data plan starting September 5. Is this a good reason for you to jump ship from your current mobile carrier, such as Verizon or AT&T and go with T-Mobile? Let us know your thoughts below.
T-Mobile Official Press Release


T-Mobile Unleashes Unlimited Nationwide 4G Data Starting Sept. 5, T-Mobile will be the only carrier with a nationwide 4G network to offer unlimited nationwide 4G data

BELLEVUE, Wash., Aug 22, 2012 (BUSINESS WIRE) -- T-Mobile USA, Inc., today announced an industry first -- a truly Unlimited Nationwide 4G Data plan. Featuring no data caps, speed limits or bill shock, as well as fast, dependable nationwide 4G coverage, T-Mobile's new Unlimited Nationwide 4G Data plan offers the ultimate worry-free experience. The new plan is designed to satisfy both data-hungry customers who want to experience all their smartphones are capable of and those wanting the peace of mind of never having to keep track of their data usage.

Today's smartphones offer amazing experiences, and consumers are increasingly relying on them for everything from navigation, entertainment and shopping to just staying connected. With the introduction of the Unlimited Nationwide 4G Data plan, T-Mobile(R) is the only U.S. carrier to empower customers to do what they want, when they want, with their smartphones by making fast, nationwide 4G data accessible for everyone -- without limits and at a great value.

"We're big believers in customer-driven innovation, and our Unlimited Nationwide 4G Data plan is the answer to customers who are frustrated by the cost, complexity and congested networks of our competitors," said Kevin McLaughlin, vice president, marketing, T-Mobile USA. "Consumers want the freedom of unlimited 4G data. Our bold move to be the only wireless carrier to offer an Unlimited Nationwide 4G Data plan reinforces our value leadership and capitalizes on the strength of our nationwide 4G network."

For customers seeking an unlimited experience on their smartphones, T-Mobile offers several ways for new and existing customers to take advantage of its Unlimited Nationwide 4G Data plan. New customers can purchase any smartphone in T-Mobile's robust lineup of innovative devices or bring their own compatible smartphone and have access to a worry-free unlimited data experience on T-Mobile's fast nationwide 4G network. Current T-Mobile customers on Classic or Value plans can simply upgrade their existing service by adding an Unlimited Nationwide 4G Data plan.

The Unlimited Nationwide 4G Data plan will cost $20 per month when added to a Value voice and text plan or $30 per month when added to a Classic voice and text plan. For example, a single line Value plan with unlimited talk and text combined with unlimited nationwide 4G data will cost $69.99 or a single line Classic plan with unlimited talk, unlimited text and unlimited nationwide 4G data will cost $89.99.

Available starting Sept. 5, T-Mobile's Unlimited Nationwide 4G Data plan will provide smartphone customers with uncompromised, dependable access to data on the blazing-fast speeds of T-Mobile's nationwide 4G network. The Unlimited Nationwide 4G Data plan will be available at T-Mobile retail stores, on http://www.T-Mobile.com/unlimited-data-plan and through select dealers and national retail stores.

Share this article with friends!

Follow Us On...